Wall Street Disconnected From Protests It Views As Misguided, Misdirected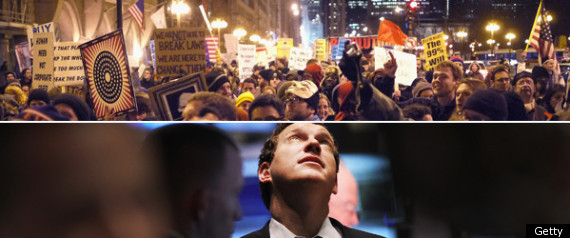 NEW YORK (Matthew Goldstein and Jennifer Ablan) - It was a telling moment at the height of the Occupy Wall Street protests.
John Paulson, the hedge-fund trader who famously made billions betting on the collapse of the housing market, was threatened by the demonstrators with a march on his Upper East Side home in New York last month. Paulson responded by putting out a press release that described his $28 billion, 120-person fund as an exemplar of the American Dream: "Instead of vilifying our most successful businesses, we should be supporting them and encouraging them to remain in New York City."
Other captains of finance like to portray themselves as humble entrepreneurs. One owner of a multi-billion-dollar hedge fund grumbled in the midst of the financial crisis that he has to worry not only about making trading decisions but also about "all the hassles the come with running a small business."
With U.S. cities moving this week to crack down on Occupy Wall Street encampments - including the one in New York's Zuccotti Park - the staying power of the movement is in question. Whatever its future, it's clear that so far, the Occupiers haven't changed many minds on Wall Street over blame for the country's hard times. The cognitive disconnect between the protesters and the captains of finance is alive and well.
David Mooney, chief executive officer of Alliant Credit Union in Chicago, one of the nation's larger credit unions, used to work at a one of Wall Street's top banks, JPMorgan Chase. There's a vast cultural gap between Wall Street and his new world, he says: Old friends from the Street, he says, now jokingly refer to him as a "socialist." A credit union is supposed to be run in the interests of all members, he says, while commercial bankers tend to see consumers as customers who can be "exploited" by layering on more fees.
Says Mooney: "I don't say this lightly, but the consumer is simply an income stream and exploiting that is the purpose of the banking organization."
In conversations with nearly two dozen current and former bankers, finance professionals and money managers across the United States, the prevailing sentiment is that the anger at Wall Street's elite is misguided and misdirected. Blame the politicians and policymakers in Washington, many of them say, for encouraging people to buy homes they couldn't afford and doing nothing to stop or discourage U.S. consumers from piling on more than $10 trillion in household debt.
"I think everyone gets what the anger is about... But you just can't say, 'Well I want all debts forgiven.' That is not happening," says one West Coast trader, who like most still working in the financial services industry, declined to be identified by name in this article.
The disconnect, says Jason Ader, a former top Wall Street casino analyst turned hedge fund manager, is in part a simple product of Wall Street's isolation from the hardship out there. Ader says he spends a lot of his time in Las Vegas, one of America's hardest-hit housing markets, and thus wasn't too surprised by this fall's anti-Wall Street outburst.
"I see plenty of despair in places like Las Vegas, where in some neighborhoods every other house is vacant or foreclosed and lots are overgrown by weeds," says Ader, who sits on the boards of Las Vegas Sands Corp and a small Nevada community bank called Western Liberty Bancorp.
But the 43-year-old Ader, who manages $200 million in his hedge fund, says it's a different story for many of the wealthy who work in finance in New York City and don't spend a lot of time in states with high unemployment and high foreclosure rates. Living in Manhattan or the Hamptons or hedge fund havens like Greenwich, Connecticut, can lead to a bit of myopia, he says.
"At first I had friends who were scratching their heads at the protests," says Ader.
BLAME GAME
To put it bluntly, many on Wall Street still see the events leading up to the financial crisis as a case of banks having legitimately sold something - whether it be mortgages or securities backed by those loans - that someone wanted to buy.
Thomas Atteberry, a partner and portfolio manager with Los Angeles-based First Pacific Advisors, a $16 billion money management firm, says his success "wasn't a gift" and he had to work hard to get where he is. Atteberry says he understands the frustration many feel about income inequality. But he said the problem isn't with those who are successful, but rather our "tax codes and regulations."
While some members of the financial elite say they are willing to pay higher taxes, they note the picture for Wall Street firms is not as sunny as some on Main Street might paint it. Wall Street banks already are beginning to shed jobs, and consulting firm Johnson Associates Inc. is predicting bonuses for those who remain will shrink by 20 percent to 30 percent.
Complaints over new financial regulations burdening Wall Street firms are a major reason blamed for the layoffs. Sit down with a hedge fund manager or a top trader and it won't take long before he or she grabs some spreadsheet that shows all the new rules and regulations coming out of the Dodd-Frank financial reform bill.
Many of America's well-to-do, not just Wall Streeters, say they don't feel particularly advantaged. A recent survey by marketing firm HNW Inc. found that half of the nation's richest 1 percent "don't see themselves as being part of that elite group." Also, 44 percent of those surveyed told HNW's pollsters they already pay too much in taxes.
Maybe it is just the ethos of Wall Street, where success is defined solely by who makes the most money, that makes it hard for financiers to feel they've wronged anyone. But in a time of 9 percent unemployment and 15 percent of U.S. citizens receiving food stamps, some Wall Street alums say the financial elite are doing themselves no favors by giving the appearance of shrugging off the current mood.
"I think Wall Street hasn't taken in how much anger there is out there and they haven't taken partial responsibility for the financial crisis," says Brookings Institution fellow Douglas Elliott, who was an investment banker for two decades before joining the liberal-oriented public policy group. "I think both sides - Wall Street and Main Street - misunderstand each other."